René Cerny Photography_-110
René Cerny Photography_-114
René Cerny Photography_-122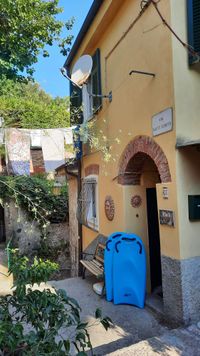 René Cerny Photography_-119
IMG-20130815-00669 - Kopie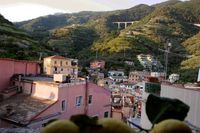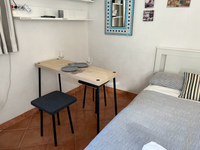 The little Pirate´s House
On the ground floor you will find a small, but efficiently equipped kitchen and small bathroom. Also a safety concept exists to make sure you enjoy a safe and relaxing vacation.
On the upper floor there´s a bedroom with a beautiful view onto the village rooftops and the nearby vineyards.
On the ground floor you will find

 

a small kitchen equipped for 2  persons with stove, sink, Nespresso coffeemaker, refrigerator, exterior equipment as folding table etc.

a small bathroom with shower & toilet.
 On the upper floor is the bedroom (a bright room with two windows).
 This room is equipped with
- a double bed with the measurements 140cm x 200cm
- a small table with 2 small seats
- wardrobe and
- flatscreen TV (international satellite programs including US
  and German channels) & MP3 player/radio.
- safe deposit box
- installed hair dryer
Our little Pirate´s House is equipped for max. three adults. It offers comfortable sleeping options for max. three adults (one double bed and one sleeping chair). But because of its small size we recommend a max. occupancy of two adults.
The benefits of  the  little Pirate´s House at a glance

Free WiFi

Quietly located in the historic village center, only 3 walking minutes to the shops, restaurants, marina and beach

Even during high season you are in between the locals

Beautiful area in front of the house where you can have breakfast or spend the evening

House is completely equipped 

The house is very romantic and absolutely unique! However, not recommendable for typical "package tourists"
 Click here for a VIDEO about the house.
Click here for recommendations and ideas.
Your  physical safety is very important  to us.

Therefore we have installed several safety features to make sure you will enjoy a safe vacation in the little Pirate´s House!

COVID19 Safety Package

Your health is very important to us.
We have therefore taken special hygiene measures to ensure that you can spend a safe and relaxing holiday
Contactless check in / check out

The cleaning staff is instructed on hygiene and health protection, especially with regard to avoiding COVID19 and every cleaning is carried out according to a special checklist. Every cleaning is logged and documented

The apartment is thoroughly ventilated during the cleaning process

After regular cleaning of the apartment the bathroom, floor, furniture, all surfaces and handles, house keys etc. are completely disinfected

Pillowcases, blankets and mattress protectors are disinfected with steam after every check out

All laundry items are washed and disinfected at 80 degrees Celsius

For your health protection in the apartment you will find free use:

o Floor disinfectant o Surface disinfectant o Hand disinfectant o paper wipes o 2 sets of disposable gloves o 2x disposable mouth and nose protective masks

FOR YOUR SAFETY the kitchen equipment was reduced to a minimum and the existing pots, plates, cutlery, etc. are being rinsed and disinfected at 80 degrees Celsius after each departure.